Spring Quarterly Membership Meeting and FY21 Annual Meeting: Championing BIPOC Leaders in Our Communities
April 9 @ 9:00 am

-

10:30 am

Free
Note: Online registration has closed. Members, if you need to submit a last-minute registration please contact Laura by email.
Session Overview:
Please join us for our virtual Spring Quarterly Membership Meeting and FY21 Annual Meeting on Friday, April 9. The learning for this quarter will begin the night prior, as we invite members to participate in the Harkin Institute's Sussman Lecture, featuring Nikole Hannah-Jones, Pulitzer Prize-winning investigative journalist and Iowa native. The Sussman Lecture is part of a community-wide dialogue in Central Iowa about systemic oppression and racial equity. We invite you to participate in the lecture Thursday evening (7-8:30 p.m.) and then join us the following day for continued discussion and dialogue with Joseph Jones, executive director of The Harkin Institute.
The Sussman Lecture, hosted by Drake University, is free but you must register for it separately.
Jones will share his thoughts and reflections from the conversation with Hannah-Jones, discuss healthcare access, public policy and education implications following the discussion, and offer perspectives as a foundation board member about ways funders and boards in Iowa can best support racial equity and equitable outcomes in Iowa.
The second part of our program will connect to Waterloo, where Hannah-Jones grew up. We will hear from Cedar Valley funders about investments they have made to support BIPOC leaders and communities in their region. We will then have an opportunity to learn from Joy Briscoe about various community projects and initiatives that she is engaged in and leading to support the Black community in Waterloo, including: 24/7 Black Leadership Advancement Consortium, SHIPHT, and emerging projects to support students in Waterloo. Her passion and voice will provide you with insights into supporting and partnering with BIPOC leaders and how to equitably invest in your community's leaders and young people.
Learning Objectives:
Learn from BIPOC leaders in Iowa about their current work and aspirations for philanthropic support of BIPOC communities
Explore the ways racial equity and public policy intersect
Examine how the health and education sectors in Iowa are experienced by and impacting communities of color
Learn from ICoF members who are investing in BIPOC-led organizations and initiatives in their communities to advance equitable outcomes for communities of color
Consider how your foundation's structures and systems can support systems change and more equitable outcomes for communities of color
Consider your role in supporting systems change, racial equity and redistributing wealth and power
Consider how lessons from BIPOC leaders can be applied to both internal and external operational changes at philanthropic institutions throughout Iowa
Who should attend?
Foundation executives who support organizational culture and operations
Grantmaking staff who support grant programs and programming
Program staff who coordinate nonprofit networks and coalitions
Evaluation staff who track and monitor progress for the foundation and/or their community
Staff at new foundations that are establishing their grant programs and focus areas
Board members, Trustees and grant committee members who hold the power in – and responsibility of  – distributing charitable assets in their communities
We hope you will join us for this important conversation and learning opportunity.
Registration for this event has now closed. To register, please contact admin@iowacounciloffoundations.org. Thank you!
Our Speakers:
Joseph Jones serves as Executive Director for The Harkin Institute for Public Policy & Citizen Engagement. The Institute offers nonpartisan programming, experiences, research, and connectivity focused on four areas that defined the career of Senator Tom Harkin (Retired): people with disabilities, retirement security, wellness and nutrition, and labor and employment.
Before joining The Harkin Institute in 2016, Joseph was Senior Vice President of Government Relations and Public Policy for the Greater Des Moines Partnership.
Prior to moving back to Iowa, Joseph served as a Legislative Assistant to Senator Harkin in Washington, D.C. He was responsible for the Senator's defense appropriations work as well as the full range of military and veterans issues. Additionally, he focused on the Senator's other appropriations work, housing issues, and advised the Senator on small business and trade. Prior to that, Joseph served as Director of Governmental Affairs for the Iowa Finance Authority; and was the Senior Communications Specialist for Governor Tom Vilsack's administration. Before that, he was the Chief of Staff and Education Director for Creative Visions Human Development Institute, a non-profit organization targeting at-risk youth in Central Iowa.
In the area of politics, Joseph served as the Iowa Political Director for the 2008 Obama campaign for president and is a past Political Director for the Iowa Democratic Party. In 2017 Joseph was elected to the city council of Windsor Heights, Iowa. He was also chosen as the city's Citizen of the Year in 2020.
Joseph has engaged in a career-long commitment to public service through volunteerism. He serves on the boards of the Mid-Iowa Health Foundation and Greater Des Moines Community Foundation. Joseph is a Trustee on the American Council of Young Political Leaders Board of Trustees. He is a graduate of Leadership Iowa and was named to the Business Record's "Forty Under 40" Class of 2009. In 2019, Joseph was voted the most influential Forty Under 40 honoree from the 2009 class, noted as having the biggest positive effect on the community. In 2020 the Iowa Central Iowa Chapter of PRSA presented him with the Outstanding Iowa Advocate award. He is currently an active volunteer with Iowa Radio Reading Information Service (IRIS) and Everybody Wins! Iowa.
Joseph is a graduate of the United States Military Academy Preparatory School and earned his BBA in economics from Loyola University New Orleans. He earned a Master of Public Administration degree in public policy and a Certificate in Non-Profit Leadership and Administration from Drake University. In 2014, he was presented Drake's Distinguished MPA Alumnus Award. He is a graduate of Air Command and Staff College and is also a Fellow of the Truman National Security Project. Currently, Joseph is a doctoral candidate at Drake University, pursuing a Ph.D. focused on civic literacy. In 2018, he was the Executive in Residence at the University of Iowa's College of Public Health and also serves on the faculty of the U.S. Chamber of Commerce Foundation's Institute of Organizational Management.
Joseph is a native of Shreveport, Louisiana. In his free time, he enjoys traveling, reading, cooking, and engaging in international citizen diplomacy and governance. Although Joseph has visited dozens of countries and all 50 states, he is most proud of seeing all of Iowa's 99 counties. He follows national security issues closely and finds time to spend with his Newfie, Toula Marie.
Joy Briscoe
Joy Briscoe is a consummate diversity, equity and inclusion professional; as an Air Force veteran with more than 15 years of experience in developing culturally inclusive programming. She is currently the Talent Acquisition and Outreach Specialist for Waterloo Schools where her role is to increase the amount of staff of color, develop Grow Your Own talent programming while also supporting the Waterloo Career Center on equity strategies to attract and retain underrepresented students and  fostering business engagement.  A master of innovation and the professional pivot, Joy has hosted multiple virtual team building retreats to develop skills to improve communication and team work, manage conflict, align business activities to organizational vision and values, and leverage diversity.
Prior to working at the district, Joy led the YWCA of Black Hawk County in its mission to eliminate racism and empower women as the Marketing and Development Director.  There she was responsible for the first Cedar Valley Stand Against Racism campaign in conjunction with 650 community organizations across 44 states in the United States; as well as revitalizing marketing materials to meet YWCA "On A Mission" national branding campaign.
As the Chief Marketing Officer for her company, Infiniti Enterprises, she launched several initiatives to reduce disparity for underserved populations with entrepreneurship, leadership and innovation.  Her philosophy is the conversation on diversity, inclusion and retention cannot be addressed without a commitment to resources and access.  In this vein, she is the co-founder of  Inclusion Cedar Valley, the Cedar Valley Fashion Art and Culture Expo, SHIPHT Youth Opportunity Accelerator, the Minority Business and Entrepreneurship Accelerator and the 24/7 Black Leadership Advancement Consortium.

Sussman Lecture Speaker:
Nikole Hannah-Jones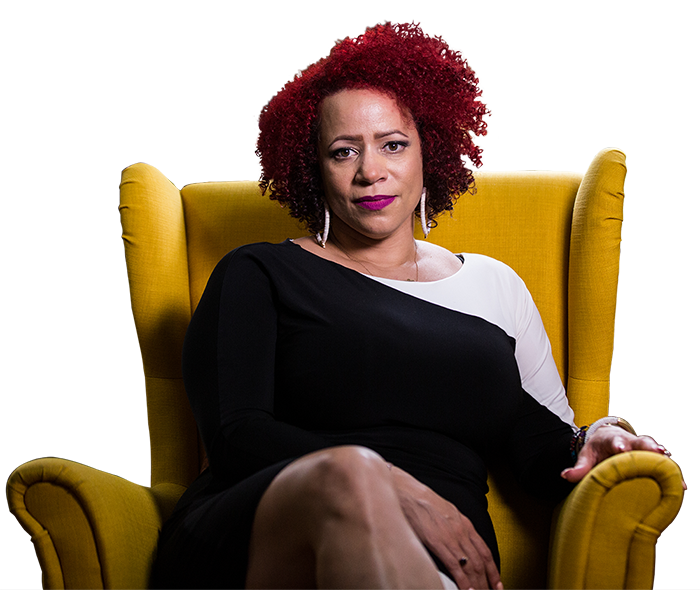 Hannah-Jones grew up in Waterloo, Iowa, and found her passion for journalism while working for her high school newspaper. She covers civil rights and racial injustice as an investigative reporter for The New York Times Magazine and is creator of the 1619 Project, for which she won a Pulitzer Prize for Commentary in 2020. She is a co-founder of the Ida B. Wells Society for Investigative Reporting, a nonprofit that provides training and mentorship for journalists of color pursuing careers in investigative reporting.
Tickets are not available as this event has passed.